Do You Know Someone
Struggling With Heart Failure?
"Unlock the Secrets of Reversing Congestive Heart Failure:
Join Our Proven 90 Day Heart Rehab Program Today!"
THE ULTIMATE GUIDE FOR REVERSING CONGESTIVE HEART FAILURE:
THE 90 DAY HEART REHAB PROGRAM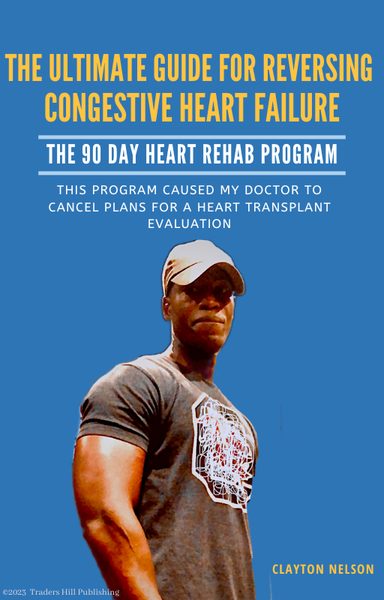 "This program literally saved my life".........Clayton Nelson
DISCOVER LIFE-CHANGING BENEFITS
Improved Heart Function: The program focuses on enhancing heart function through targeted exercises, nutrition guidance, supplement use and lifestyle modifications.
Increased Energy Levels: By following the program, you'll experience a boost in energy levels, allowing you to engage in daily activities with vitality and enthusiasm.
Reduced Symptoms: The program aims to alleviate common symptoms associated with heart conditions, such as shortness of breath, fatigue, and fluid retention.
Enhanced Exercise Capacity: Through personalized exercise plans, the program helps you improve your exercise tolerance and endurance, enabling you to engage in physical activities for longer durations.
Meet Clayton, Your Guide to Triumph Over Heart Failure
Hello my name is Clayton and I wish share my personal journey of battling heart failure and how I overcame its challenges to start Living DaGreat Life.
Nearly 30 years ago, I had undergone two open heart surgeries in a span of 17 months.
I was told by my doctor in 2014, I needed to undergo a Heart Transplant study.
So I personally understand firsthand the struggles, fears, and frustrations that accompany this condition. The constant thought of death, the roller coaster rides of irregular heartbeats.
The thoughts on your mind that the doctor is just watching you fade away.
BUT, I REFUSED to fold and quit....I REFUSED to give up.
Deep down I knew there was a way out.
So I began extensive research, trial and error, the first thing I learned was that Heart Failure like most illness is a metabolic dysfunction. There was something wrong in the mitochondria of the cells.
So I learned how to rehabilitate my mitochondria and improved my overall health.
I developed a daily regimen that has helped me reverse the effects of congestive heart failure and regain my vitality.
The picture on the cover of the guide was taken on the 90th day of my program.
Soon after the doctor reduced my medication at that time and never mentioned another word about the heart failure study.
And now, I'm sharing this life-changing 90 Day Heart ReHab Program with you!
Don't miss your chance to order this groundbreaking eBook and transform your condition through The Ultimate Guide for Reversing Congestive Heart Failure.
NOW is the time for you to embrace a future filled with hope, health, and happiness!
Get Results With The 90 Day Heart ReHab Program:
This program includes:
A comprehensive guide on how to reverse heart failure and improve your overall health through mitochondrial rehabilitation

A detailed 90-day plan that will guide you through every step of the program

Delicious recipes and meal plans that are designed to nourish your body and boost your mitochondria

A complete workout plan that will help you improve your cardiovascular health and strengthen your muscles

Personalized coaching and support to help you stay on track and achieve your health goals
Claim Your Copy Now - Receive 7 FREE BONUS GIFTS TODAY!
Order your copy of "The Ultimate Guide for Reversing Congestive Heart Failure" today!
As an exclusive order offer, you'll also receive:
✔️ 25 Rice, Bean & Vegetable Recipes: Nutritious Recipes for 90 Day Heart-ReHab Program
✔️ 30 Heart Healthy Whole Food and Vegan Recipes
✔️ 35 Detox Bath Recipes for Restoring Heart Function
✔️ 7 Day Light Exercise Program
✔️ Daily Schedule & Weekly Routine
✔️ Plant Based Grocery Shopping List (huge list)
✔️ The 90 Day Heart Rehab Checklist
Take control of your heart health destiny - it's time to thrive, not just survive!
Order now and be among the first to experience the incredible transformation awaiting you within these pages.
Remember, life is too precious to settle for anything less than extraordinary. Reclaim your heart health and start Living DaGreat Life today